With CYBER WEEK in full effect, I decided to put some of my TOP 5 AMAZON ITEMS (right now) in a blog post for you to refer back to. I have tested and used all these items so I know you're going to love them too. Enjoy and Happy Online Shopping!
When Dyson claims "supersonic" dryer, they live up to the hype! I don't blow dry my hair often, but when I do or when I need a dryer on my clients, this is what I use! My sisters gifted this sweet baby to me so long ago and I have been loving it ever since! Very easy to use, multiple attachments included, and a case to organize and store the attachments and dryer.
$399.00
I'm obsessed with this cleanser! I've been a loyal user for years and every time I switch, I always come running back to this. It is made with all natural and organic ingredients, non drying, no harmful chemicals and best of all - it CLEANS everything off your face! Wait, it does get better! This formula is also concentrated so a little dime-size goes a long way.
$22.99
For anyone who needs great lighting ANYWHERE, The Glamcor Multi Media Extreme Kit makes a huge difference! This is the exact lighting kit I use whether I'm working in-studio, glamming up to go out, or working on-location. The tripod and light system is lightweight, easy to set up and break down. This kit also comes with a bluetooth remote control, adapter, covers, and travel bag. There are also additional attachements: add a mirror or cell phone, iPad, or SLR camera mount. (accessories sold separately, but are so worth it!)
$350.00
During these winter months, my skin tends to get extremely dry and flaky. Even though I have combination skin, I find that since I've added this to my night time routine, my skin feels hydrated and supple. After cleansing and toning, I will use a serum and then add a generous layer of Rosehip Seed Oil (2 drops during summer months and 4-5 drops during winter months.)
$29.99 for 4oz bottle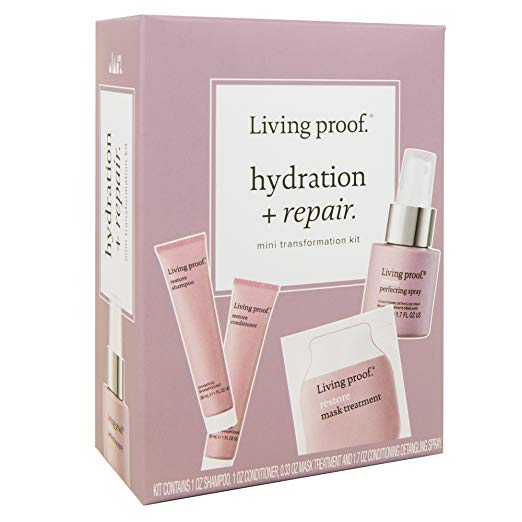 This mini transformation kit is great if you want to test out Living Proof products or if you're traveling! Again, with the harsh and dry winter season, not only does my skin dry out, my hair dries out too! This mini set includes shampoo, conditioner, perfecting spray and hair mask treatment. Everything needed to give my hair a boost of hydration!
$18.00
Hope y'all enjoy gifting or purchasing for yourself! Happy Cyber Week!
XOXO,
Cat